As the month of October comes to a close, Halloween is quickly approaching which means it's time for scary movies, costumes, and candy. However, the holiday kids know and love will have to be celebrated a little differently this year due to the COVID-19 pandemic. With social distancing and CDC guidelines, it may not be in your best interest to have a big costume party or go trick-or-treating this year. But, it's natural for people to want to celebrate Halloween since it's the first time the holiday is on a Saturday in five years and the first time there will be a full moon Halloween night since 1944! Here are a few ways to celebrate Halloween while staying safe during the pandemic:
Visit a Pumpkin Patch
There is no better way to get in the spirit of Halloween than visiting a pumpkin patch. Walking around and picking out the best looking pumpkin is a great activity for Halloween. It's also a great place for scenery if you would like to take some fall pictures and have a photoshoot. Pumpkin patches are a great place to visit with friends, family, loved ones, or even alone.
Pumpkin Patch | Lake Wylie
Carve Pumpkins
The best thing about pumpkins is that there are so many different ways to decorate them. Whether you decide to carve them, draw a face, or paint on it, the number of ways you can customize your own pumpkin is infinite. After visiting a pumpkin patch, spend some time carving faces into your pumpkin and light a candle inside to create a spooky look. There are a plentiful variety of tutorials on YouTube where you can learn how to carve a face in a pumpkin.
Make Your Own Scary Mask
Although COVID-19 harshly interrupted 2020, it did give everyone the ability to wear their own mask, so why not use those masks as a costume for Halloween. As the months have gone by, people have bought their own masks with different designs and logos on them. For Halloween, you can buy a scary-themed mask that fits the holiday spirit or make your own. With the common blue masks CDC advises everyone to wear, you can easily draw a pair of fangs or dripping blood on your mask to give it a scary look.
Scary Mask | Pinterest
Have a Scary Movie Night
A major part of Halloween is the fright and terror, so why not bring it into your own home. Search for some scary movies on Netflix and Hulu and have a movie night with a small group of friends. Netflix has a scary movie collection with hundreds of films to choose from including Unfriended, Would You Rather, Truth or Dare, and more. You can even make the night scarier by watching the movies with no lights on and only use flashlights. Be sure to get the popcorn and candy ready because it could be a fun night!
Decorate your own Haunted House
You might not be able to visit haunted houses this Halloween, but that shouldn't stop you from making your own haunted house! Most people decorate the outside of their houses with scarecrows on their lawns and cobwebs at the door. Take the haunted house idea inside this year and redesign your house into the perfect haunted house that you visit every year with pop out skulls and boobie traps to keep the fun alive. You can even set up games like a treasure hunt or solving a mystery to create an excitement for going through the haunted house.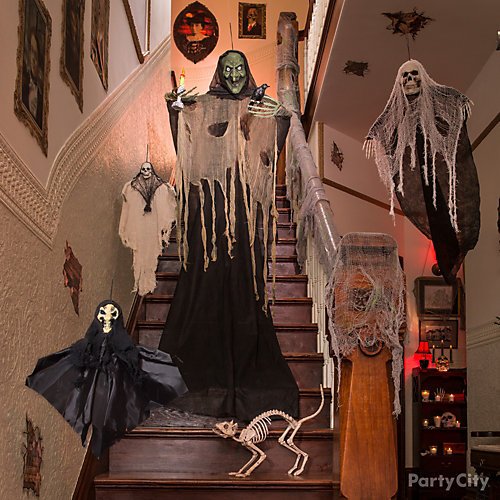 Host a Family Costume Party
Spending Halloween in the house doesn't mean you can't still have any fun! Plan with your family and close friends to have a small costume party where everyone can dress up in their own Halloween costume or you can coordinate one group outfit. Some cute family ideas could be The Incredibles, Black Panther, The Simpsons, and thousands more. You can take cute pictures and make memories that'll last a lifetime. Make the party a little more exciting by giving a prize for whoever has the best outfit!
However you choose to celebrate Halloween, be sure to remain safe and protect your health. If the country does well with practicing social distancing and wearing masks for this holiday, we might be able to enjoy Thanksgiving and Christmas together, so act accordingly!